Artfair Den Bosch 2007
15 Apr 2007 - 22 Apr 2007
Art & Antiques Fair
Art & Antiques Fair 's-Hertogenbosch has undergone a huge transformation during the forty-odd years of its existence. While the oldest art and antiques fair of the Netherlands started in 1967 with just six antiques dealers and took place in the Castle of Bouvigne on the outskirts of Breda, it has now become an important event that is held within the city of 's-Hertogenbosch. The Fair features no less than ninety leading exhibitors from Belgium and Germany as well as from the Netherlands and attracts in the region of twenty-five thousand visitors. Yet it has retained the warm, intimate atmosphere that has characterized the Fair from the very beginning.
A wide variety of high-quality objects on offer
Art & Antiques Fair Den Bosch is synonymous with quality and diversity, offering an outstanding display of art and antiques dating from 2000 BC to the present day. The proportion of the Fair devoted to contemporary art has increased while interest in Asian art is still growing. Also, owing to the ever-increasing number of foreign exhibitors, there is an even greater diversity of objects on offer. Each year 85 experts make up the vetting committee which rigorously checks all items with regard to quality, condition and authenticity. Not only that, the excellent price/quality ratio of objects offered for sale and the fact that there is something to suit the taste and pockets of everyone interested in art and antiques both contribute to the ongoing success of Art & Antiques Fair 's-Hertogenbosch.
Art & Antiques Fair 's-Hertogenbosch
Once again Art & Antiques Fair 's-Hertogenbosch promises to be a great success: the unique floor plan, which has already met with much acclaim, consisting of 8 squares around which an eclectic mix of the Fair's ninety exhibitors is situated; a superb choice of refreshments ranging from coffee to champagne, from the Bossche bol (a local speciality) to oysters, from hors d'oeuvres to desserts and everything in between; the choice between catering facilities available within the Fair or a meal in its excellent restaurant; the opportunity to relax at various places within the Fair; the gentle sounds of background music. All the above plays a part in creating the warm, intimate ambiance for viewing such superb presentations that is so typical of Art & Antiques Fair 's-Hertogenbosch.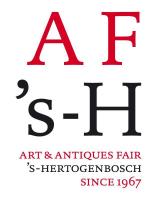 Tentoonstelling Details
Brabanthallen, Peelhal en Baroniehal
Diezekade 2
5222 AK Den Bosch
NL