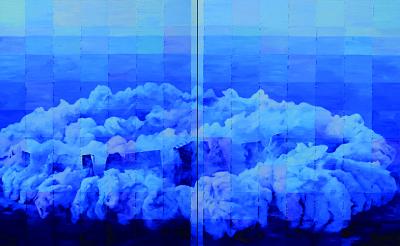 Li Hanxiao
Nature is an essential theme within Hanxiao work which he uses to artistically explore specific subject matters. In his work, he expresses concern for a lost bond between humans and nature as well as the problem of ongoing pollution in China. Stylistic composition and surreal interpretation is key to Hanxiao style of painting. Using these effects, he describes a nature suffering from decay and neglect. In some cases dramatic images show the fall of buildings to express a negative fate for industrialization, its influence on people and harm to nature. The result of this can be seen in other works. Small, single, naked human figures are painted amongst lonely, desolate landscapes.
A regular trait in the artist's work is the thematic use of dawn achieved by a variety of blues. Dawn, the start of the day, symbolizes themes of expectation for the coming environmental future. It is because of this that blue, the colour of dawn is used to communicate these ideas.
As well as the coldish blue tones, Li Hanxiao paints various areas shades of pink. This not only enhances his paintings grid lines but also creates a separation between the viewer and the painting just as if one were looking through a lens, a lens that shows a glimpse of the future.
Contact form