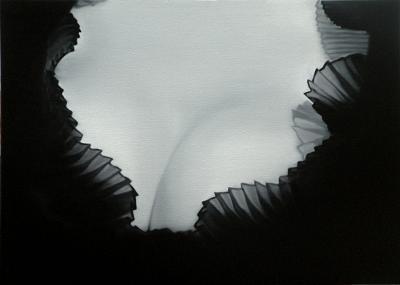 Liu Xiaofeng
Photorealistic paintings
Liu Xiaofeng chooses subjects for her paintings that evoke luxury and erotic. Her staged still lives of the series Body show female beauty and allurement. Her series Butterfly seems to be a metaphor of the series Body. The images of butterflies are painted in an enlarged scale. In this way there remains a distance between the painted world and the world of the viewer. By using a color palette that only includes white, grey and black Liu Xiaofeng highlights the stylised character of her work. The predominant dark tones of her series Butterfly create a night atmosphere and emphasize the white patterns of the butterfly wings.
Her oeuvre represents a self-confident young Chinese generation. Liu Xiaofeng makes a link to the Chinese erotic paintings of the 18th century but translates them to contemporary society.
Body No. 8
The work shows the décolleté of a lady that is wearing a black blouse with a plunging neckline. The blouse has a border with frills of net lace. A light coming from the right side is turned on the lady's porcelain white skin and emphasizes the three dimensionality of her body.
Contact form